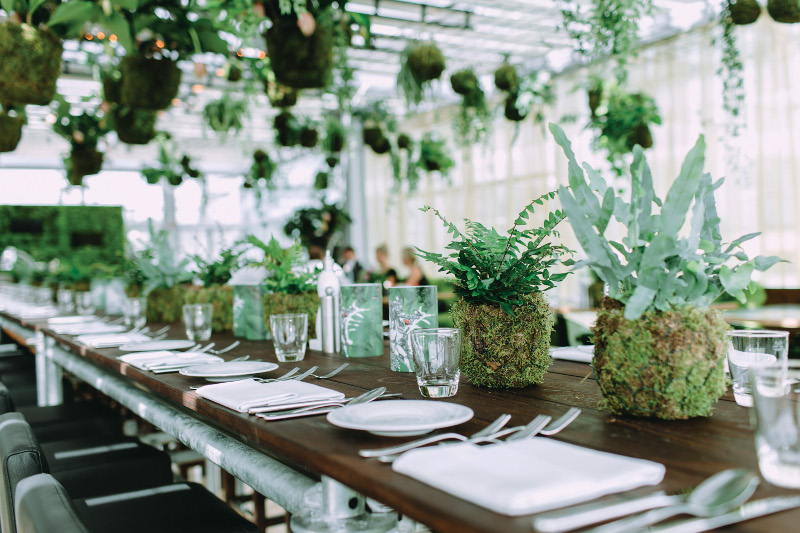 It's no simple task to envision a new restaurant idea. The strongest conceptions of restaurants are those that give diners a taste they can never forget. Nevertheless, industry competition makes it tougher to provide a genuinely unforgettable experience.
What does the new owner of a restaurant have to do? Oh, you need motivation first. We have therefore assembled a collection of 100 groundbreaking conceptions for restaurants to help the creative juices flow.
1. Ithaa
Located in Rangali Island, Maldives
The first and only restaurant under the sea in the world provides a 270-degree panoramic view of sea creatures with the ability to host 14 people.
2. Dinner in the Sky
Serves in over 45 countries of the world
Take the dining experience with dinner in the Sky to a new level. This one-of-a-kind restaurant can handle 22 fearless diners and three employees as it's suspended 160+ feet in the air.
3. Parallax Restaurant
Mammoth Lakes, California
The luxury snowcat chariot is waiting for you! This restaurant offers you the dining experience slopeside at Mammoth Mountain Inn – 9,600 feet up – with the view of the snow capped peaks of the Eastern Sierra landscape.
4. El Diablo "The Devil"
Las Palmas, Spain
The cooking top of El Diablo is just incredible. This restaurant is located on a Spanish island and cooks its food over an active volcanic hole in the earth.
5. Sur un Arbre Perché
Serves in Paris, France
Do you want to relax extraordinarily? Sur un Arbre Perché can offer you that as you sit in a swing during all dining experiences.
6. Signs
Toronto, Canada
Signs, a restaurant that supports the community deaf people, provides its customers with a rare chance to talk to their staff using American Sign Language (ASL).
7. Norma's
New York City, New York
Have you ever heard about frittata for $1,000? The innovative idea for Norma's breakfast is highly-priced, but with good reason: frittata is made with a lobster pound on the bed of fries and is ended with a pile of caviar. But never mind: you can get a $100 "cheap" version too.
8. Eternity
Located in Truskavets, Ukraine
Eternity, run by undertakers, suggests a spooky restaurant experience. The restaurant is made to represent a life-size coffin. There are no windows, and as decor funeral paraphernalia serves – even the menu is energized by death.
9. The Disaster Café
Loloret de Mar, Spain
Do you want to have a fantastic dining experience? The Disaster Cafe can offer this, along with 7.8 Richter scale earthquakes simulated during meals.
10. Devil Island Prison Restaurant
Devil Island, China
Have you ever dinned in prison? At the Devil Island Prison Restaurant you can do this. When entering, the clients are numbered, photographed, and fingerprinted. The restaurant looks like a prison, with sliding doors, metal floors, and iron bars. The guests are eating in jail cells and served by waiters dressed in black-and-white- striped prison uniforms.
11. O.NOIR
Toronto and Montreal, Canada
Leave your use of sight behind the door to try food, beverages, and talk like never before. Dim-sighted waiters serve you as you dine in total darkness.
12. Ninja Dining
New York City, New York
If you search for an exclusive restaurant in NYC, you must visit this place. This restaurant is made in warrior style, and its waitstaff is dressed up like ninjas, delivering your meal with a side of nunchuck tricks. It's something we haven't seen before.
13. Aurum
Clarke Quay, Singapore
A meal in this restaurant made in medical theme calls for entering through "morgue," seating in a wheelchair at an operating table, sifting through a surgical instrument drawer to get some cutlery.
14. Forbes Island
San Francisco Bay, California
We recommend visiting this floating island in Sea Lion Harbor for tasteful American dishes, along with views of Alcatraz and sunbathing sea lions. Constructed in 1975, Forbes Island complements this fantastic experience with dining rooms and bars underwater.
15. Rogo's
Yas Island, Abu Dhabi
The visitors of Rogo's must put their orders on a tablet, and they are shipped by a 12-meter tornado spiral directly into their plates.
16. Homewood Mountain Resort
Lake Tahoe, California
Enjoy mountain top dining at this established ski resort that you can reach by riding on the Qual Chairlift. Every summer, chefs hold a series of Farm-to-Peak dinners at the top of the mountain with elegant cuisine and a bird's-eye view of Lake Tahoe below.
17. RAW Canvas
Vancouver, Canada
RAW Canvas looks like a typical wine bar and tap house at first sight, but once you go downstairs, you'll be in an art gallery where you can imaginatively discover your inner Picasso.
18. Kinderkookkafe
Situated in Amsterdam, Netherlands
This restaurant in Amsterdam, owned by children (aged 5-12), intends to show these young people all the restaurant's work's nuances. Attached to a daycare center, these kids master trade tricks as cookers, cashiers, and dishwashers – of course, with the aid of some adults.
19. The Five Fishermen
Halifax, Canada
The Five Fisherman is now a fine seafood dining restaurant. Earlier it was a funeral home for the Titanic victims in 1912 and the Halifax Blast victims in 1917.
20. Steam Plant
Spokane, Washington
The Steam Plant was built in appreciation of the industrial revolution enabling diners to dine in large steam boilers while such favorites like Manila clams in Cutter's Pale Ale brewed on site are served.
21. Chill Out
Dubai, United Arab Emirates
For joining the oasis inspired by Inuit creativity, you need to wear thermal clothes – parks, shoes, and gloves in the refrigerator lounge. Within, a drink is waiting for you to make you unfreeze.
22. Supperclub
San Francisco & Los Angeles, California
This multi-sensory California experience involves uncommon cuisine, music, dance, original and avant-garde live performances. And it's not all, as you relax on white beds, you can appreciate an internationally inspired meal of four courses.
23. A380 In-Flight Kitchen
Taipei, Taiwan
A380, with artificial oval-shaped windows, luggage compartments, and speckled blue seats, is made to look the same as the aircraft's interior. The visitors will be treated with waitresses wearing flight attendants' uniforms – but fortunately, they have even more to pick from than chicken and fish.
24. Villa Escudero
San Pablo, Philippines
A meal at Villa Escudero signifies appreciating dishes while sitting at the foot of a waterfall, feet submerged in calf-deep water.
25. Beetle House NYC
New York City, New York
Zach Neil created his Tim Burton restaurant inspired by a mix of the director's visionary works, The Cure music, and Salvador Dali Art. The collection of drinks contains "This is Halloween" and "Coco Skellington" to pay tribute to "all things dark and lovely" through food and drink.
26. The Lockhart
Toronto, Canada
This magical Toronto bar has always fascinated Harry Potter's fans, with its references to the favorite book series, from its style to its cocktail menu.
27. Terry Bison Ranch
Cheyenne, Wyoming
All aboard the train for lunch! You'll find such kind of cuisine at Terry's Bison Ranch that you can enjoy. Take some famous Wyoming bison burgers while you drive through the prairies, with bison moseying along the tracks.
28. Kayabuki Izakaya
Utsunomiya, Japan
In this Japanese restaurant, you cannot escape monkeys. You will be served by a set of five lovely monkey butlers. Don't worry – Animal Protection accepts such type of service.
29. Dick's Last Resort
All around the US.
There is one thing you'll never see in this restaurant – the manners. Dick's Last Resort's waitstaff gains its livelihood by being jerks to the clients – and they cheer the same in return!
30. Meow Cat Cafe
Toronto, Canada
A mother-daughter team in Toronto owns this lovely café. You can happily play with those fluffy feline mates while drinking coffee.
31. Cannibalistic Sushi
Tokyo, Japan
The type of food is in its name; it is dedicated to the cannibalistic theme; waitresses dressed as nurses wheel out sushi in the body shape on a gurney. You can use a scalpel for cutting the "abdomen" to reveal the tasty sushi.
32. Four Seasons Resort Whistler
Whistler, Canada
Take your après-ski to the high level by having a meal at the helicopter. The helicopter takes diners atop a glacier for an open-air buffet where you can enjoy incredible views of backcountry horizons.
33. Tongabezi Lodge
Livingstone, Zambia
The treehouse chalets are equipped with candlelit decks overlooking the Zambezi River. They enable visitors to enjoy a meal at sunset like never before.
34. Pay As You Please
Killarney, Ireland
At this funky Irish café, set your price. Pay As You Please offers simple dishes, such as pizza, soups, and salads. Its exclusive model of business brings people through the door.
35. High Finance Restaurant & Tavern
Albuquerque, New Mexico
To have a meal at 10,378 feet in the air at this observation platform, the customers have to go 2.7 miles a tramline, passing by the rugged rock faces above Rio Grande Valley. They are offered green chile chicken alfredo and New York strip steak at the end of the trek.
36. Post Office Pies
Birmingham, Alabama
You don't go to the post office every day for a slice. Located in the ex historic Avondale post office, the unique pizzeria has been included in the Thrillist list of 33 best pizzas in America.
37. Porridge Cafe
London, UK
As it was a pop-up, the whole idea of breakfast that was the Porridge Café is still worth admitting. We haven't seen a conception of a restaurant devoted so much to decorate a traditionally boring breakfast. The visitors could select from a rotating menu of 11 grains, including buckwheat and quinoa, with interesting toppings as persimmon compote, chia seeds, papaya, and agave nectar.
38. Safe House
Milwaukee, Wisconsin
This "top secret" restaurant, focused on the CIA concept of a safe house, includes a password for clients who want to enter the institution.
39. Barbie Cafe
Taipei, Taiwan
Having the Mattel license, this café is a dream for every Barbie lover. With all pink-colored things, servers sport tutus, while the visitors take in everything Barbie around them.
40. Conflict Kitchen
Pittsburgh, Pennsylvania
Here you can find dishes inspired by the competing countries. Based on the day's headlines, recently, the kitchen was serving North Korean food, in Kim Jong Un style.
41. Princess Heart
Tokyo, Japan
This Tokyo restaurant lets its visitors feel royals: as they enter, customers will be guided to a full-length mirror where they are offered to question: "Who's the fairest of them all?" – before they sit on a throne and be crowned.
42. Sultan's Tent and Café Moroc
Toronto, Canada
Plunge into North Africa's attractive culture in the center of downtown Toronto. Enjoy an evening of belly-dancing and delicately seasoned Moroccan dishes, among fascinating jewel and colored spice hues of tented lounges and Moroccan decoration.
43. "So You Think You're A Foodie"
Chicago, Illinois
In this Chicago restaurant, visitors are often shocked because they do not know what they get before it is delivered. There are various whole-animal feasts cooked each month by Chef Brian Jupiter, but only after it arrives on their plates will the dinners find out what they will eat.
44. The Elbow Room Cafe
Vancouver, Canada
In the Elbow Room you'll find the excellent dishes, in addition to a sudden "surprise" – the café workers can start screaming and mocking the clients at any time.
45. Niagara
Meguro-ku, Tokyo
Niagara provides a unique experience on the railway. When the customers put an order at the meal ticket vending machine after entering, they sit in the passenger-car-style seats and enjoy the dishes by way of an entertaining model system of railway delivery.
46. Napa Valley Wine Train
Located in Napa Valley, California
At this Napa Valley restaurant, you can appreciate food and drinks on the tracks. The clients glide past vineyards in California's wine country in renovated Vista Dome cars from the 20th century, with its unique interior of this train car mahogany-clad.
47. Zauo
Shinjuku-ku, Tokyo
If you're sure you've ever tasted fresh seafood, this restaurant will make you think this again. The guests of Zauo are delivered a fishing rod and bait; after they go fishing.
48. Namale Fiji
Savusavu, Fiji
This Fiji resort provides visitors dining on the Koro Sea under a cave archway. Decorated with tiki torches alongside the lava rock, customers will admire the spectacular views of the rainforest while tasting the day's catch.
49. The Ledge at Skydeck
Chicago, Illinois
The comfort food hits new heights at The Ledge at Skydeck, offering famous Chicago deep dish pizzas from Giordano's or Oysters Rockefeller, in a compilation of private glass boxes that broaden beyond the 103rd floor of Willis Tower with the city lights shine 1,353 feet below.
50. The Singapore Flyer
Singapore
Jump on the second biggest watching wheel in the world and enjoy the meal in private capsules served by butlers. Appreciate a dinner of four courses while you're revolving 540 feet above landmarks like the F1 Circuit and Collyer Quay.
51. Circus
London, England
Circus diners are surprised by spontaneous performances while eating some tasty Pan Asian dishes. Guests don't know what they prefer more - acrobatics, juggling, or just some clowning around - until it happens.
52. Tommy Guns Garage
Chicago, Illinois
Return to the old times visiting this restaurant made in speakeasy-style. You'll feel like you're with the likes of Al Capone and everyone's dressing daringly and blazing, as though they'll have dinner with famous criminals of the 1920s, before a music and comedy show.
53. Sonev Kiri
Koh Kood, Thailand
If you're fond of adventures, this is a must-visit place. Guests will enjoy fantastic food while dangling from a treepod like nest in a dense forest above the breathtaking coastline of Koh Kood. Waiters come and go offering some of the best dishes on the island.
54. Bors Hede Inne
Carnation, Washington
Made in Middle Ages style the restaurant requires leaving modern gadgets at the entrance to appreciate the meal inspired by the 14th century.
55. Clifton's Cafeteria
Los Angeles, California
This hip and redesigned restaurant was originally opened in 1932. California's heritage is alive and well at Clifton's, from stuffed bison down to a massive, artificial redwood towering from the restaurant's center.
56. Lucky Cheng's
New York City, New York
Lucky Cheng's is the pioneer of the idea of serving dishes by stylish drag queens. It offers a three-course Asian American meal, along with cabaret, comedy, and Asian dances. This unique restaurant in NYC is a complete dining and entertainment package that makes the visitors talk well after leaving the place.
57. The Santa Fe Opera
Santa Fe, New Mexico
Step to the high level in the Santa Fe Opera. Appreciate a car-side banquet of decorative boxes of dinner with flank steaks and spinach tarts that takes up the parking lot three hours before the curtains' opening.
58. The Yurt at Solitude
Salt Lake City, Utah
The visitors come to an "evening adventure of snowshoe" through the enlightened pine forests. After for $125 from a person, a group of 24 guests can enjoy elegant dishes cooked by the chef right in front of them.
59. Amangani
Jackson Hole, Wyoming
A winter highlight is this dinner in the Western-style at the peak of Amangani. Enjoy a stunning view of GroVentre Butte while traveling through the National Elk Refuge, before accessing a warm tepee where guests come on the feast of free-range buffalo, prime ribs, and salmon.
60. Jekyll & Hyde Club
New York City, New York
See how the characters of "The Strange Case of Dr. Jekyll & Mr. Hyde" by Robert Louis Stevenson liven up at this English gothic restaurant, full of animatronic ghouls and insane men in capes.
61. Fife & Drum
Concord, Massachusetts
As inmates cook all meals within the Northeastern Correctional Centre culinary program, this restaurant in Massachusetts has literally taken jail food. If you want to have a meal here, you have to go through the jail security for tasting a prix fixe, made-from-scratch meal, for $3.21.
62. ICHIRAN
New York City, New York
Rejoice, single diners! ICHIRAN aims at improving the sensory pleasure of ramen eating by depriving the dining experience of any unwanted activities – like communication. You will sit alone, along with your reflections and soup, at what's known as a "flavor concentration booth."
63. Twin Stars
Moscow, Russia
The name speaks for itself – twins complete this Russian establishment. The couples wear the same uniform, operate the bar, and serve burgers and pizza.
64. Casa Bonita
Lakewood, Colorado
Among this diverse mix of entertainment and restaurant, you'll find everything from wandering musicians to arcade games in Casa Bonita. The most popular is the cave divers in Acapulco-style that jump into the indoor waterfall and pool.
65. Hajime Robot Restaurant
Bangkok, Thailand
There is no need to tip the server in this high-tech Japanese restaurant, as the Hajme robots serve the guests. They are all professionally prepared to dish out every item from its 100+ menu, bus tables, and entertain visitors by a dance or two.
66. Harvey Washbangers
College Station, Texas
This modern laundry lets you pick up a burger in the linked restaurant while you wait until your clothes dry. Washbangers is quite popular among college students as it's situated next to Texas A&M University.
67. Mars 2112
New York City, New York
In this exclusive NYC restaurant in Time Square made in an outer-space style, you'll get out of this world experience. There are dressed alien hosts, Martian red lighting, followed by otherworldly-named dishes and cocktails.
68. Redwoods Treehouse
Warkworth, New Zealand
You can get to this establishment created in the shape of a pod only via a raised treetop walkway made of redwood. This magnificent place is only used for private events with a guest ability of 30 people.
69. Bubba Gump Shrimp Co.
All around the US.
Along with 16 locations worldwide, we have the movie Forrest Gump (the Oscar-winning film, by the way) to thank it for its cinematic experience of seafood. We suggest paying attention to the bizarre names of menus - "Bubba's After the Storm Buck of Boat Trash" or the "I'm Stuffed!" shrimp.
70. Cat Cafe Nekorobi
Tokyo, Japan
In this Japanese café, you'll have a chance to spend your coffee break with several cats. The evening visits are an exceptional treat, as you can see the kitties feast on cat food in glass food bowls that are placed around a floor lamp in a circle.
71. Dirt Candy
New York City, New York
Do you know any restaurant with vegetables as the key draw? This sort of kitchen does not sound like a great deal of pleasure, but its chef Amanda Cohen takes the vegetarian conception to its logical end. Dirt Candy is the first New York restaurant with an emphasis on vegetables, and it's a "leader of the vegetable-forward movement."
72. Tonga Room
San Francisco, California
Move into the Tiki atmosphere of the 1940s, where the drinks are offered in tiki vessels, and you can witness the thundershowers every half hour.
73. Rattlesnake Saloon
Tuscumbia, Alabama
As it's located under the cliff overhang, Rattlesnake Saloon's visitors will appreciate the full dining experience among the landscape's natural beauty. Made in Old West style, it offers such dishes as "giddy-up sticks" and "chuckwagon nachos."
74. BED
Miami, Florida
Who wants to breakfast in bed when you can have dinner in bed? The acronym means beverage, entertainment, dining – and you'll receive all of this in bed!
75. De Culinaire Werkplaats
Amsterdam, Netherlands
In this highly themed establishment, you'll find the interweaving of dinning and style. Everything served to the table is a piece of art. Designers Marjolein Wintjes and Eric Meursing let their imagination spill through the kitchen, making dishes that are influenced by themes such as "honesty," "flowers," and "water."
76. Noble
Halifax, Canada
Located under Barrington Lane, Noble, an underground speakeasy-inspired bar, is situated in the center of Halifax. Located underneath the Middle Spoon Desserterie & Bar, you will need a password for entering. This password changes every Thursday.
77. Palms Thai
Los Angeles, California
While Palms Thai serves some highly regarded Thai cuisine dishes, their fare isn't their claim to fame. Patrons instead come to Palms Thai to enjoy the hits of "Thai Elvis."
78. Perlan
Reykjavik, Iceland
The Perlan suggesting a stunning panoramic view of Reykjavik and beyond, gently finishes a full turning every two hours.
79. Oasis Cafe
Chicago, Illinois
Who knew some of Chicago's most excellent falafel is located in a jewelry shop's back. Oasis Cafe offers classical Middle East cuisine items for less than $7.00, so you always have a few cash remaining for diamond shopping.
80. Modern Toilet
Taipei City, Taiwan Province
This magnificent restaurant began by selling chocolate ice cream in containers like mini-toilets. Still, then the trend started to take off, resulting in the establishment made in a bathroom style.
81. The Heart Attack Grill
Nevada, Las Vegas
The unique cuisine also comes with a health threat. We have never seen a restaurant been more irreconcilable about serving unhealthy food than The Heart Attack Grill in Sin City. Creator Jon Basso holds around his "ashes bag", saying that it belonged to a client who died in their restaurant from a heart attack. In short - avoid 10,000 calorie burgers.
82. The Airplane Restaurant
Colorado Springs, Colorado
Hopping on board a 1953 Boeing KC-97 tanker as an ode to the past of the aviation industry will make you enjoy such menu items as "runway crunchy chicken strips" and "air tower nachos." Just one note - never leave the ground!
83. Hachikyo
Sapporo, Japan
When you go to Hachikyo in Japan, you better come hungry, or you're going to pay. To commemorate the Japanese fishermen's efforts, you will pay a fine if you don't eat all the food on your plate.
84. The Magic Castle
Los Angeles, California
This castle mansion dates from the early 1900s and is renowned for its magic and entrees as strip steak and penne with rock shrimp. To enter, the visitors must tell a bookcase "open sesame."
85. M. Wells Dinette
New York City, New York
Located in the PS1 Art Gallery, M. Wills Dinette is a tribute to the venue's history in the old red brick schoolhouse. For suiting the restaurant-style, the patrons are seated at tables with plastic chairs, the specials are scribbled on the green chalkboard, and exquisite dishes are served on tin cafeteria trays.
86. De Kas
Amsterdam, Netherlands
The 26-foot high-glass structure has been turned into a restaurant and nursery by Michelin star chef Gert Jan Hageman. You can find no fresher ingredients elsewhere because at De Kas they are collected in the field at sunrise on the same day you dine there.
87. The Bubble Room
Captiva Island, Florida
The Captiva Island electric restaurant is decorated with iconic 1930's and 40's toys with running trains that circle all three floors. What began as a tiny one-room restaurant became a multi-theme restaurant that absorbed all three floors of the house where it all started.
88. The Pointe Restaurant
Tofino, Canada
The Pointe Restaurant visitors can enjoy a 240-degree view of the pounding surf as it hits upon the rocks that encircle the Pacific Ocean.
89. The Catacombs
Lancaster, Pennsylvania
Surrounded by stone-lined vaults, a few stories below Bube's Brewery in Lancaster, the visitors taste good wines, regional brews, and typical delicacies. Until the guests sit at their desk, they are taken on a costumed guide through the brewery, with a choice of ghost excursion.
90. The Sweatshop
Paris, France
What better way to spend your coffee time giving a try to fasten together the latest in French fashion? The Sweatshop in Paris mixes coffee and crafts that make your time spent in the cafe a bit more effective than usual.
91. Oasis Surf
Montreal, Canada
Let your heart beat fast so you innocently can stuff your face! This restaurant of Montréal offers you a restaurant and an indoor surfing complex.
92. REM Eiland
Amsterdam, Netherlands
Enjoy a 22 meter above water dining at this towering sea escape off the Amsterdam coast. Located on the old pirate radio and TV station, it serves three courses' lunch and evening meal.
93. The Varsity Downtown
Atlanta, Georgia
Famous for being the biggest autodrome in the world, The Varsity Downtown has been greeting customers through windows of their cars, "What'll ya have?" since 1928. If its tasty burgers and fries don't conquer you, then you'll definitely like their entertaining carhops.
94. Christon Cafe
Tokyo, Japan
This gothic restaurant made in Biblical-meeting style in Tokyo gives the dining experience unexpected holiness. While the organ music plays background, where else will you dine under a crucifix with coffin shape menus?
95. Alinea
Chicago, Illinois
Chicago Restaurant Alinea is situated at the forefront of the bucket lists of several foodies. The cuisine is a real piece of art and includes such dishes as sea urchin and snow, allowing Alinea to win number seven at the 50 Best Restaurants in the San Pellegrino world.
96. Fortezza Medicea Restaurant
Volterra, Italy
Fortezza Medicea is a behind-bars eatery, like Fife & Drum. The real inmates serve the visitors - very decently, by the way, along with plastic cutlery.
97. Trailer Park Lounge
Chelsea, New York
If you want a kitschy in NYC downtown, Trailer Park Lounge can offer this. This place is considered the peak white-trash memorabilia, having everything from pregnant beer-guzzling mannequins to lightening Santas and a not working toilet out front.
98. Zingara Cucina
Melbourne, Australia
Zingara Cucina is the leader of strange places; it has no set address and changes locations from parking lots to laneways, bridges, and galleries.
99. The H.R Giger Bar
Gruyeres, Switzerland
Attached to the H.R Giger Museum, this bar is dedicated to the Swiss surrealist painter, sculptor, and set designer known for Alien's work. Although the HR serves just alcohol, the interior is a visual celebration.
100. Cafe/Day
Shizuoka, Japan
This Japanese themed cafe represents a fantastic twist of the classic design of open-air that links its interior aesthetic with street traffic. The café is built on a car park with bright white traffic markings and asphalt as clear as day, spreading the calm space into the urban environment.